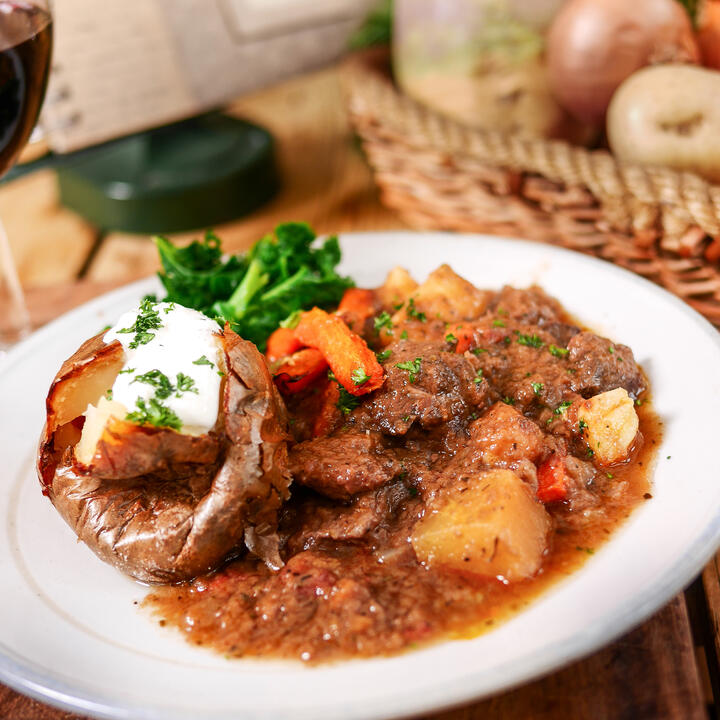 Beef and Root Vegetable Casserole
Serves: 4
Preparation time: Less than 30 mins
Cooking time: 1 to 2 hours
Ingredients
500ml Osius Beef Bone Broth
700g Beef braising steak – diced
1 small onion – diced
100g Carrot – diced
60g Celery – diced
40g Swede – diced (large cubes)
60g Parsnip – diced
100g Tinned Tomatoes
2 teaspoons Tomato puree
2 teaspoons of Vegetable oil
2 cloves of garlic
40g Flour
20g Black pepper
½ teaspoon salt
100ml Orange Juice
100ml Red Wine
½ teaspoon basil
½ teaspoon Herbs de Provence
Method
Preheat the oven to 170C/325F/Gas 3.
Season the meat with salt and black pepper.
Heat a large casserole dish until very hot then add the oil. Fry the beef until browned all over, then remove from the pan and set aside. (You may need to do this in batches.)
Add the onions and garlic and a little more oil to the pan and fry for 2-3 minutes, or until lightly browned. Add the carrots, celery, swede and parsnip and cook for a further minute.
Stir in the flour with the tomato puree then gradually add the red wine, stirring until smooth. Add the browned beef orange juice and the beef bone broth, followed by the chopped tomatoes. Season with salt and freshly ground black pepper and bring to the boil. Stir in the herbs, Cover with a lid and cook in the oven for one hour.
Remove the lid and increase the heat to 200C/400F/Gas 6 for 30 minutes.