Organic beef bone broth with turmeric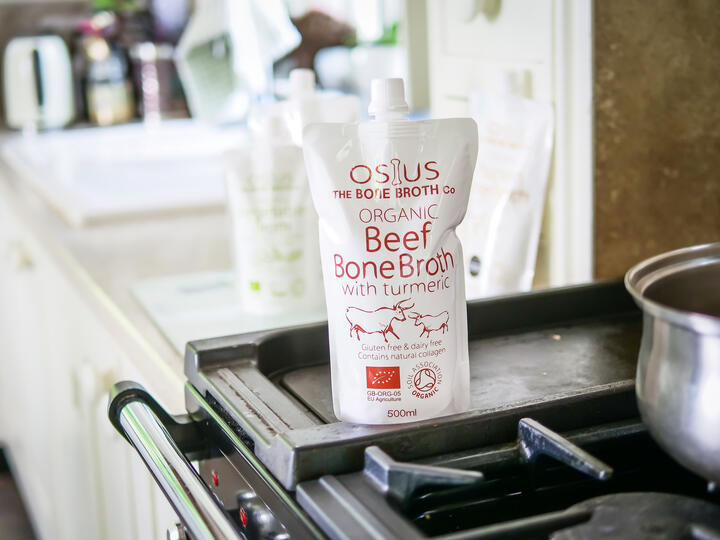 Organic, grass-fed beef bones and fresh vegetables have been used to create this delectable and comforting bone broth, which is produced by us with pride and passion. Amid the farms which supply us, in our own kitchen, we simmer these wholesome ingredients over a gentle heat and allow time (48 hours) to work its magic.
Contains 3.4g of natural collagen per 100ml.
Store in freezer, once opened store in fridge and use within 7 days.
Beef bones* (50%), filtered water, carrot*, apple cider vinegar (with Mother)*, thyme*, turmeric*, black pepper*.
Allergens in bold
*Organic
| | |
| --- | --- |
| Energy | 167kJ/40kcal |
| Fat | 2.4g |
| (of which saturates) | 1.1g |
| Carbohydrates | 0.2g |
| (of which sugars) | 0.2g |
| Protein | 4.4g |
| Fibre | 0.5g |
| Salt | 0.13g |
As a drink - neat, warmed gently on a hob diluted just to make it go further. A nutritious alternative to tea or coffee.
As a base - for soups, stocks & sauces. Just taste the difference.
As a natural flavour enhancer - when you are cooking vegetables, pasta or rice. Try it in your risotto.