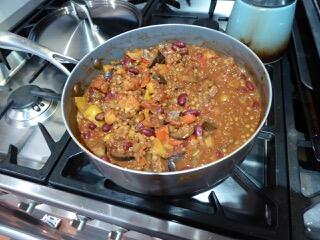 Vegan Chilli
A delicious vegan chilli with a splash of Osius vegan broth.
Ingredients
2 tbs olive oil
1 small onion, finely chopped
1 stick celery, finely chopped
1 red or yellow pepper, diced
1 dessert apple, diced
1 aubergine, diced
1 clove garlic, finely chopped
1 red chilli, finely chopped
2 tsp dried oregano
1 tbs coriander seed
1 tbs cumin seed
2 tbs chipotle paste
150g Puy lentils (or similar)
250ml white wine (vegan), or water
500ml Osius Vegan Vegetable Broth
400g tin kidney beans
400g tin tomatoes, chopped
20g dark (at least 70%) vegan chocolate
1 to 2 tsp sugar
salt and pepper
Method
In a dry frying pan, toast the spices until hot and fragrant. Crush using pestle and mortar or spice grinder .
Add 1 tbs of oil to the frying pan and brown the diced aubergine. Add more oil if needed. Remove from pan and set aside.
Add 1 tbs of oil to a saucepan and fry the onion and celery until soft.
Add the spices, salt and pepper, chilli, garlic, red/yellow peppers and apple. Fry for a couple of minutes without browning. Add chipotle paste and stir.
Add the lentils, stir in, and then add the wine. Bring to the boil and add the broth, tomatoes, kidney beans and oregano.
Bring back to the boil, reduce it to a simmer, partially covered for 40 minutes until lentils are tender and liquid is reduced.
Add the cooked aubergine and simmer for a further 10 to 15 mins.
Break up the chocolate and add, stirring to dissolve. Test and season with salt and pepper
Serve or allow to cool and refrigerate. It will be even tastier the following day.
To download this recipe card, click here.