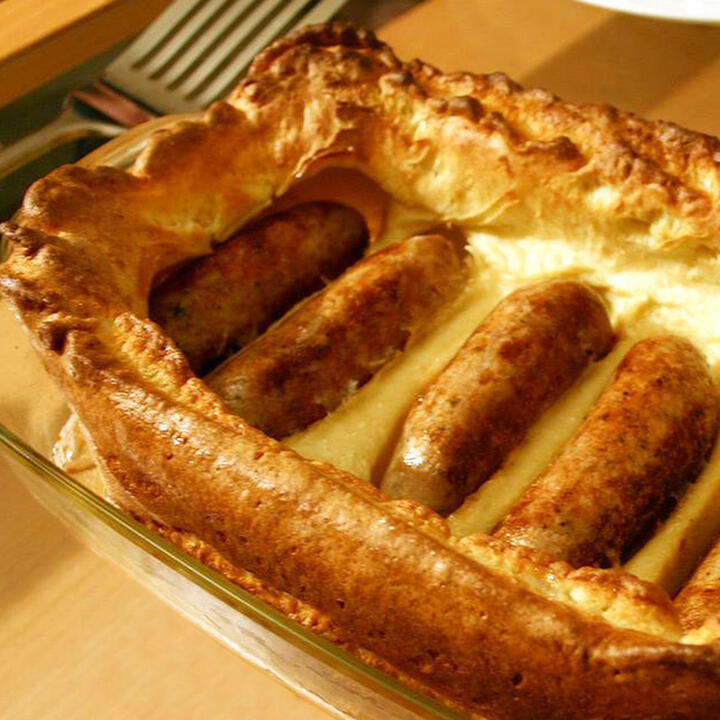 Toad in the hole - Bonfire Night Feast!
Autumn family dinners aren't complete without this comforting classic! Enjoy with onion gravy, made with bone broth for that gut-loving kick!
Ingredients
For the toad
8 rashers streaky bacon
8 good-quality pork sausages
1 onion, thinly sliced
1 tbsp vegetable oil
For the gravy
2 tbsp vegetable oil
1 onion, thinly sliced
2 tsp plain flour
2 tsp ready-made English mustard
2 tsp Worcestershire sauce or soy sauce
600ml Osius Chicken or Vegetable bone broth
Method
Preheat the oven to fan 200C/conventional 220C/ gas 7.
Sift the flour, make a hole in the centre and crack in the egg. Beat lightly then gradually pour in half the milk and water. Ensure to beat all the time to form a smooth, thick batter. Continue for 2 minutes, then stir in the remaining liquid.
Wrap one bacon rasher around each sausage then, in a roasting tin, scatter over the onion and drizzle with oil. Bake for around 15-20 minutes or until the bacon and sausages are starting to colour and the onion is brown at the edges.
Remove from the oven. Quickly pour the batter over the sausages. Return to the oven for 35-40 minutes until the batter is crisp and well risen.
Whilst this is cooking, make the gravy.
In a small pan, heat the vegetable oil. Add the onion and fry until softened and lightly coloured.
Stir in the flour and cook for 1 minute. Add the mustard, Worcestershire or soy sauce and bone broth and stir whilst bringing to the boil.
Simmer for 15 minutes, then taste and add more salt and pepper if necessary.
Serve and enjoy!