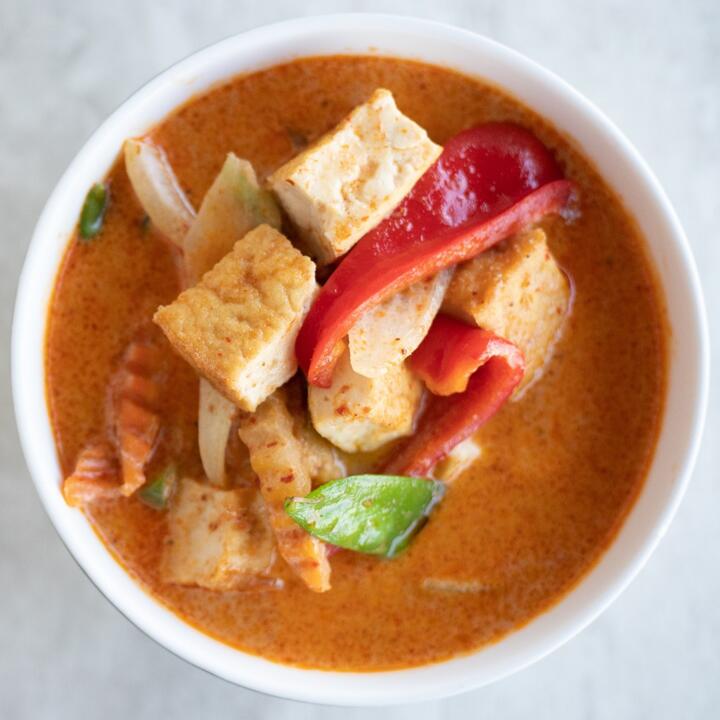 Thai Red Curry
Ingredients
1 tbsp vegetable oil
1 tbsp ginger paste
1 tbsp garlic paste
1 onion
5 tbsp red curry paste
400ml coconut milk
400ml chicken bone broth
200g firm tofu, drained
Kaffir lime leaves
1 tbsp fish sauce
Chopped coriander, to serve
Pinch of brown sugar
1 red chilli, sliced diagonally
1 red pepper, sliced
2 carrots, chopped
100g green beans
Method
Heat the oil in a large saucepan over medium heat, fry the ginger and garlic pastes for 2 mins.
Add the red curry paste, then add the tofu chunks and fry until they start to brown.
Pour the coconut milk and bone broth into the pan and bring to the boil, then simmer for 4-5 minutes.
Add the fish sauce and a pinch of brown sugar - add more fish sauce if you like it saltier or brown sugar if you'd like it to be a little sweeter.
Add the vegetables to the pan and bring to the boil.
Spoon the curry into four bowls and top with 1 red chilli and coriander. Serve with jasmine rice.