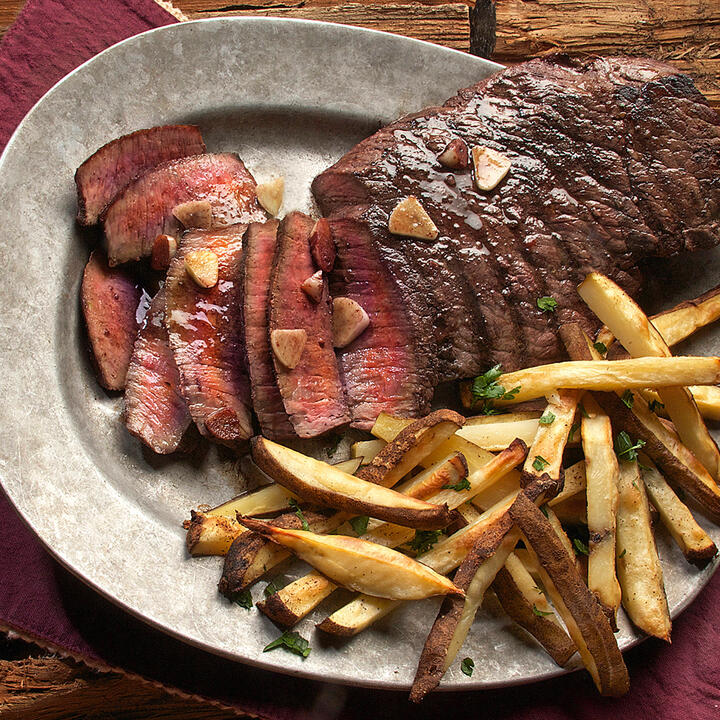 Steak and chips with Pepper sauce
Steak and chips with pepper sauce will make the perfect Valentine's main course!
Ingredients
800g potatoes, cut into batons
2 ribeye steaks, brought up to room temperature
1 tbsp rapeseed oil
20g butter
1 thyme sprig
2ltr vegetable oil
For pepper sauce
1 shallot, chopped
1 garlic clove
150ml Osius Beef Bone Broth
50ml double cream
2 tsp cracked black pepper
Method
Bring a large pan of well-salted water to the boil. Add the potato batton and part-boil for 8-10 minutes. Drain and set aside to cool.
Put a frying pan over high heat until hot. Rub the steaks with a little oil and season well with salt and pepper. Put the steaks into the pan and cook as per packet guidelines to your taste. Add the butter and thyme for the last minute.
Remover the steaks and rest under foil for 10 minutes.
Meanwhile, make the sauce.
Add the chopped shallot and garlic clove to the pan. Fry for a few minutes before pouring in the stock. Let it bubble until reduced and starting to thicken.
Then remove and discard the garlic and thyme and turn the heat down to low.
Meanwhile, heat the oil in a deep-fat-fryer (or a large pan about half full with oil) to 180°C.
Fry the potato batons for 3-4 minutes, until golden brown. Drain on kitchen paper and season well with salt.
Stir the cream into the sauce over a gentle heat until warmed through and add any juices from the resting steak.
Add the cracked black pepper and taste before adding salt if necessary.
Serve the steak with the fries and the sauce and enjoy!