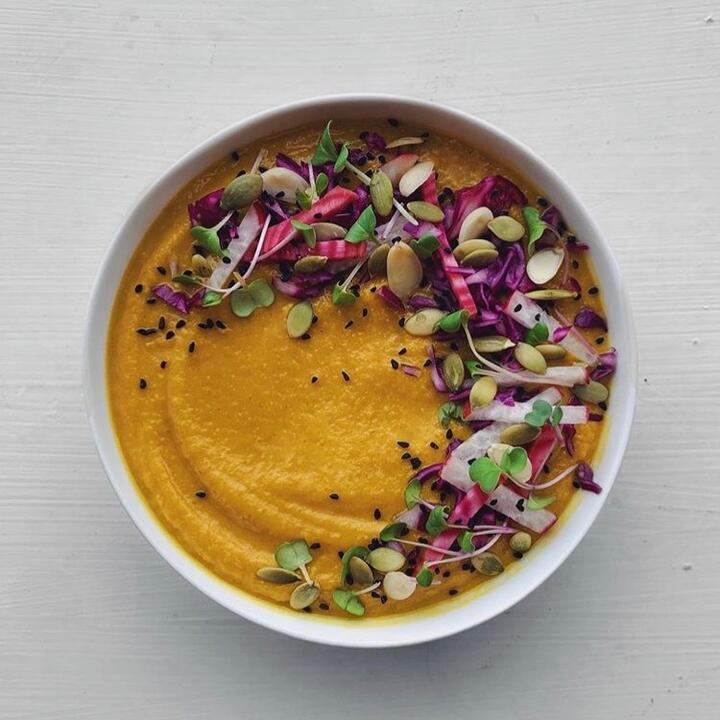 Squash and Red Lentil Soup
As the Autumn nights descend upon us, there's nothing more comforting than a hot bowl of soup, especially when it's made with nourishing bone broth! This Squash and Red Lentil Soup by @thathealthjunkie is our new favourite soup to cosy up with - check out more of her recipes on her website and Instagram.
Ingredients
1 Red Onion Squash (or any other Winter squash)
1 courgette, chopped
2 carrots, chopped
½ white onion, chopped
½ red onion, chopped
2 garlic cloves, chopped
1 cup red lentils
400ml Chicken Bone Broth
Spices (paprika, cayenne, cinnamon, nutmeg, turmeric, allspice, pink salt, black pepper)
Fresh ginger, grated
Method
Preheat the oven to 200C.
Halve the squash and roast it face down for about 40 minutes until soft
Add red lentils to a saucepan of boiling water and cook until soft.
In a separate pan, add the carrot, garlic, and onions to the bone broth and simmer on low heat with the lid on for about 10 minutes.
Add the courgette and cooked lentils to the pan and cook over a low-medium heat for 10 mins.
Once the squash is cooked, add it to the pan and blend until your desired consistency.
Add spices to your desired taste with a little freshly grated ginger.