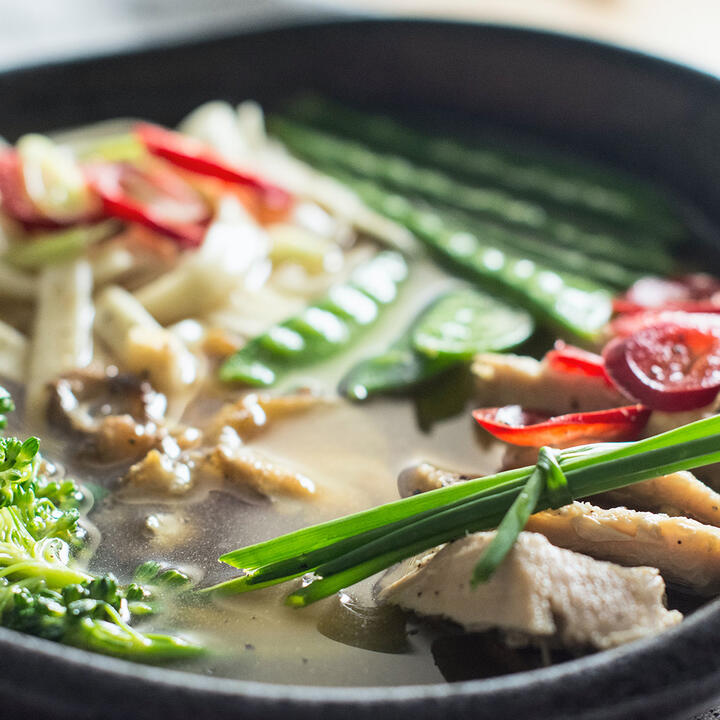 Spring Suppers - Spring Vegetable and Chicken Broth
Broth isn't just for winter! Try our Spring Vegetable and Chicken Broth, perfect for a Spring supper!
Ingredients
500ml Osius Chicken Bone Broth
1 chicken breast
1 tbsp olive oil
1 slice sourdough bread, cut into cubes
2 tbsp grated parmesan
2 large handfuls of finely sliced spring greens
4 asparagus spears, trimmed, halved, and cut into chunky pieces
40g fresh or frozen peas
400g can borlotti beans, drained and rinsed
Method
Heat oven to 200C/180C fan/gas 6.
Heat 1 tsp of the oil in a pan and brown the chicken. Once brown remove the chicken and set aside. Then bring the bone broth to the boil in the same pan, add the chicken and cook for a further 5 mins. Turn off the heat, cover with a lid and leave to stand for 30 mins.
Put the sourdough bread cubes on a baking tray. Drizzle with the remaining oil, and sprinkle with salt and Parmesan. Bake for 6 mins until crunchy and golden. Remove and scrape off the tray onto a plate.
Remove the chicken from the broth pan and slice it.
Bring the bone broth to the boil again and add the greens, asparagus, and peas. Cook for 1 min, then add the beans and chicken. Heat everything through.
Pour into bowls and top with the Parmesan toast to serve. Enjoy!