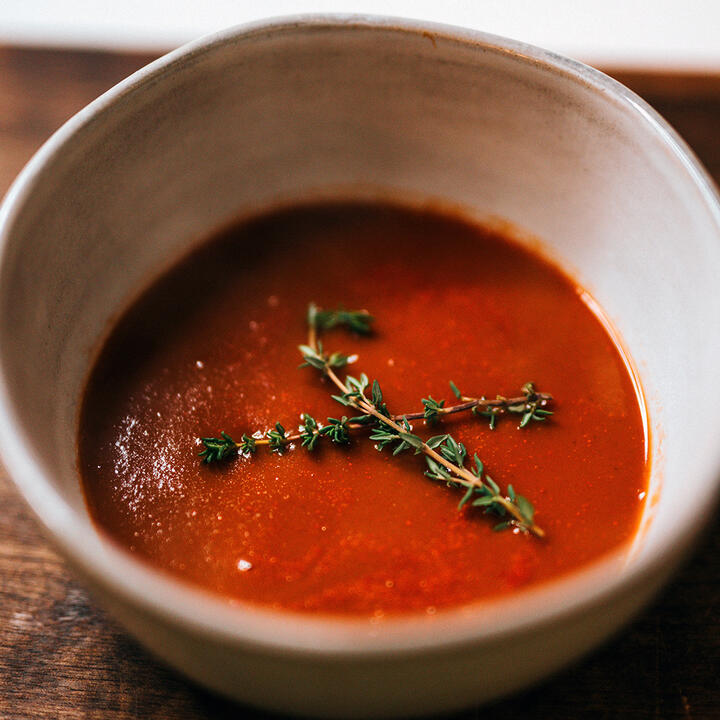 Spicy Lentil and Tomato Valentine Soup
Enjoy this tasty tomato soup for your Valentine's meal starter!
Ingredients
400ml Osius Vegetable Bone Broth
½ tablespoon Sunflower Oil
½ medium Onions, chopped finely
½ medium Garlic Clove, crushed
½ inch piece of Fresh Ginger peeled and chopped
½ teaspoon Cumin seed, crushed
40ml Petite Crimson Lentils
Salt and Pepper to taste
Low-fat Yogurt and fresh Parsley (chopped) to garnish
Method
Heat the oil in a large saucepan and cook the onion gently for around 5 minutes (until transparent).
Stir in garlic, ginger, and cumin. Then add tomatoes and lentils.
Stir in Osius Vegetable Bone Broth and tomato puree.
Bring to boil. Then lower heat and let simmer for around 15 minutes (until lentils are soft).
Add salt and pepper to taste.
Using a blender, puree the soup.
Return the soup to the saucepan and heat gently.
Serve in heated bowls with a heart-shaped swirl of yogurt and sprinkling of chopped parsley.