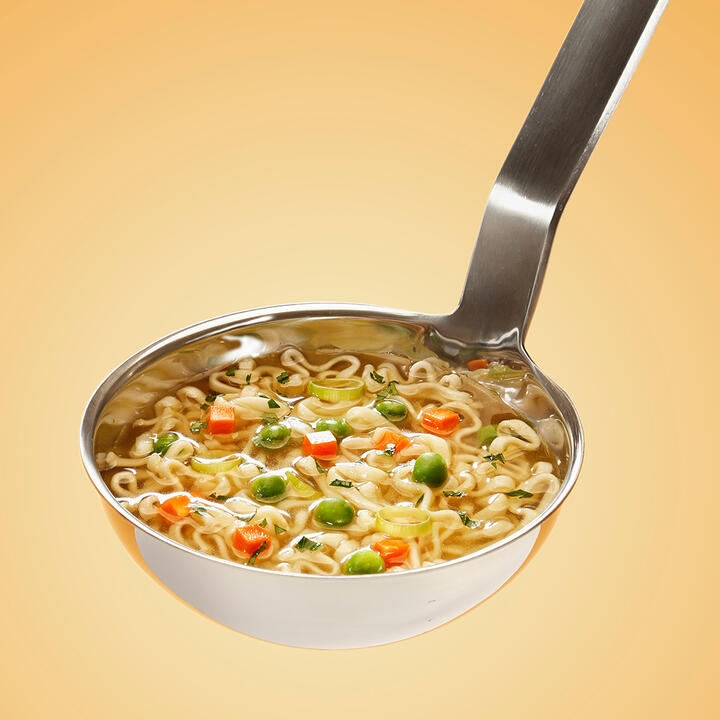 Soup'er delicious Chicken Noodle Soup - for Kids!
This quick and easy noodle soup is the perfect homeschool lunchtime meal. You'll need an adult to help with some of the tasks so we've made two checklists for you to follow!
Ingredients
Firstly, let's take a look at the ingredients!
500ml Osius vegetable bone broth
Small piece fresh root ginger, grated
1 garlic clove, grated
2 tsp soy sauce and 2 tsp sugar
85g cooked leftover chicken, shredded
a handful of your favorite mixed vegetables (you might want to try beansprouts, sweetcorn, sliced carrot, and peas)
150g pack straight-to-wok noodles (or use 85g/3oz dried, cooked according to pack instructions)
2 spring onions, sliced, to serve
juice 1 lime
Method
Tasks for children:
Make sure you have all the ingredients you need
Choose your favourite vegetables
Wash the vegetables you have chosen, then hand them over to your adult to cut and prepare them
Weigh out the ingredients
Check off the adults' tasks when they are complete
Enjoy your dish once it's cooked and be proud of all your hard work!
Tasks for adults:
Put the vegetables into the frying pan and cook over medium heat.
When the vegetables are nearly cooked, add the stock, ginger, garlic, soy sauce, and sugar to the pan, then heat.
Simmer for around 5 minutes.
Meanwhile, cook the noodles separately (check the label for specific cooking instructions/time.) Drain and rinse under cold water. This will stop them cooking further. Toss with olive oil to stop them forming a cluster and set aside.
Once the vegetables and sauce is cooked, toss in the cooked noodles, mix and cook for 1 minute.
Divide between two bowls or mugs, sprinkle with spring onions and add the lime juice.
Great work!
To remember your hard work, have a go at drawing the final dish and label the ingredients! (You might want your adult to take a picture of the dish first so that you can eat it whilst it's warm, fresh, and tastes its best. You can then use the photo to draw from after!)
Then think about what you liked about this dish, and maybe some things you would change!
Finally, give it a score out of 10!
You can ask your adults to share your dishes with us on Instagram by tagging us in your posts @osiusbonebroth and use the hashtag #CookWithOsiUS