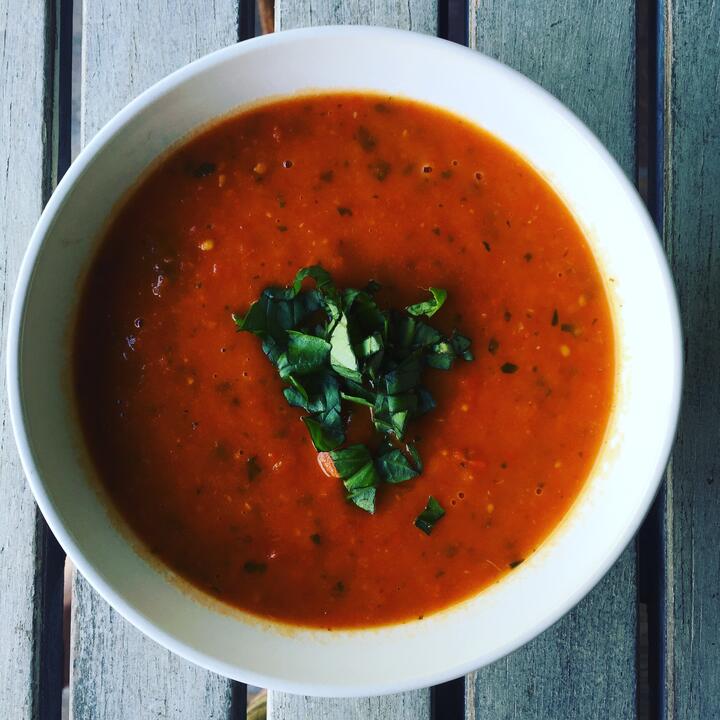 Rustic Tomato and Basil Soup
We can't get enough of this soothing Tomato and Basil Soup… roasting the tomatoes helps to sweeten them, giving you a rich, flavoursome soup. Be sure to use organic ingredients for optimum flavour (guaranteed!)
Ingredients
700g organic tomatoes on the vine
4 garlic cloves
30ml good quality olive oil
Pinch of dried oregano
Pinch of rock salt
250ml Osius Vegetable Broth (or other broth flavour of your choice)
Black pepper
Handful of fresh basil (extra for topping)
Method
Preheat the oven to 200C. Slice the tomatoes in half and put them on a baking tray with the garlic cloves. Drizzle with olive oil and season.
Roast for about 45 minutes until the tomatoes are lovely and soft. Add to a blender with the garlic cloves, oregano and basil.
Once blended, add the tomatoes to a pan over medium heat with the vegetable broth, then simmer for 10 minutes.
Blitz with a hand blender until desired consistency. Season to taste and serve with chopped fresh basil and crusty sourdough.