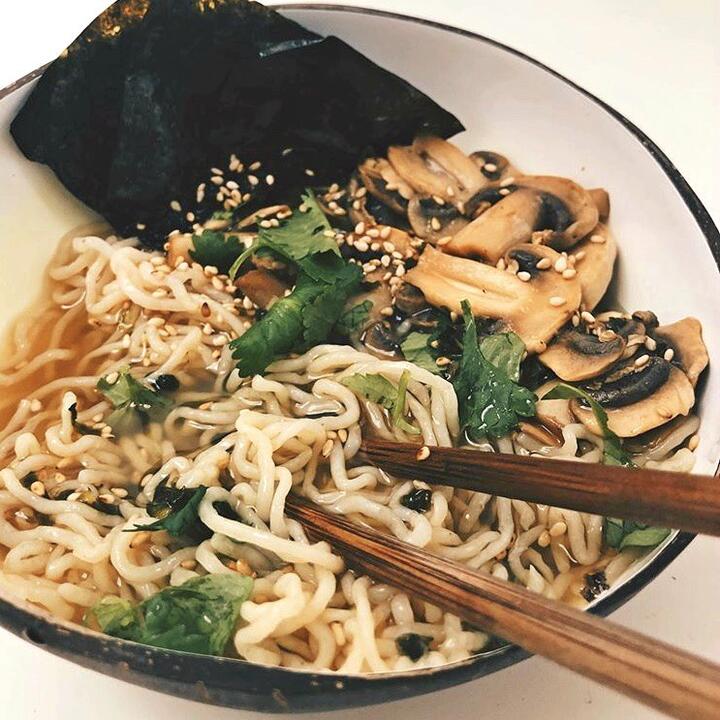 Ramen Noodle Soup
Ingredients
We love making ramen for its explosion of umami flavour and endless possibilities when it comes to combinations. We've taken inspiration from eatwithaasi to make this delicious Ramen Noodle Soup with our Organic Beef Bone Broth with Seaweed. It's the perfect mix of salty and savoury and you can add whatever vegetables or noodles you like to make it your own - eatwithaasi uses our Organic Vegan Broth as a vegan alternative!
500ml Organic Beef Bone Broth with Seaweed
200ml water
2tsp coconut oil or sesame oil
2 garlic cloves, finely chopped
Pinch of chilli flakes
2 tbsp soy sauce
2 cups shiitake mushrooms
2 bundles of ramen noodles
1 bok choy
250g chicken (optional)
2 eggs (optional)
Method
Cook your ramen noodles following the instructions and set aside.
In a large pot, bring the bone broth and water to a boil over medium-high heat. Reduce heat to a simmer and add in garlic, chilli, bok choy and mushrooms until the mushrooms have softened and the bok choy has wilted.
Taste the broth and add a little sugar or soy sauce to make it saltier or sweeter to your taste.
Slice the chicken (if using) and fry it in coconut oil or sesame oil. Set aside.
Boil the eggs (if using) to add to the ramen.
Divide the noodles into bowls and top with chicken. Heat up the broth and vegetables and add to the bowl, then top with a sliced egg and a sprinkle of chilli flakes. Enjoy!