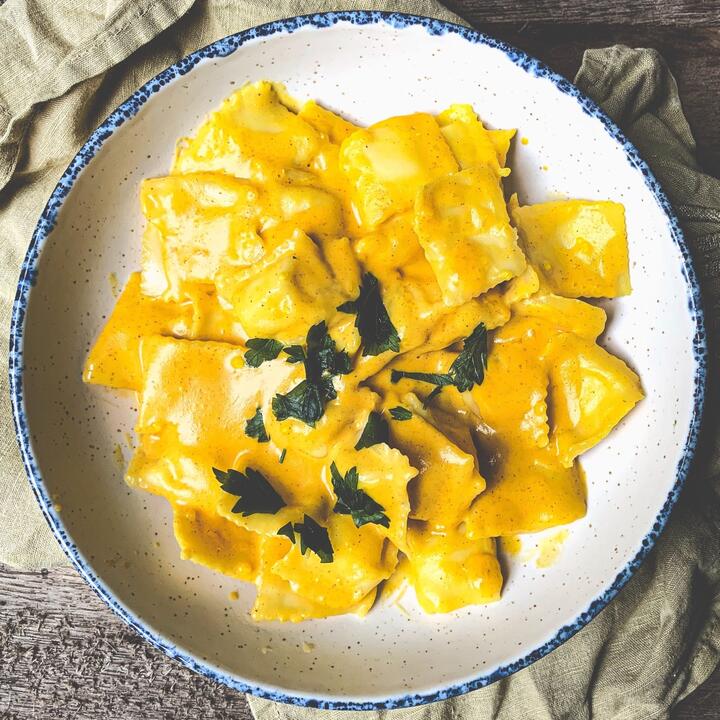 Parmesan and Pumpkin Ravioli
We're making the most of pumpkin season with this creamy Cheese and Pumpkin Ravioli, best served piping hot with a sprinkle of fresh parsley. Enjoy!
Ingredients
300g fresh cheese ravioli
1 pumpkin (for pumpkin puree)
400ml chicken bone broth
1 tablespoon butter
Pinch of salt
1 garlic clove, chopped
2 tablespoons Parmesan cheese
2 cups milk
Pinch ground nutmeg
Bunch of parsley, chopped
Method
For the pumpkin puree, cut the pumpkin into chunks and place into a saucepan. Cover with water and bring to the boil.
Cook for about 20 minutes or until the pumpkin is soft.
Drain well and cool, then puree with a hand blender.
Cook ravioli according to directions.
In a large pan, add butter and cook garlic until soft.
Whisk the bone broth and milk together and add to the pan, alongside the parmesan, pumpkin, salt and nutmeg.
Cook for about 15 minutes until the sauce starts to thicken, making sure to stir occasionally.
Drain ravioli and stir into the sauce, topping with parsley and seasoning.