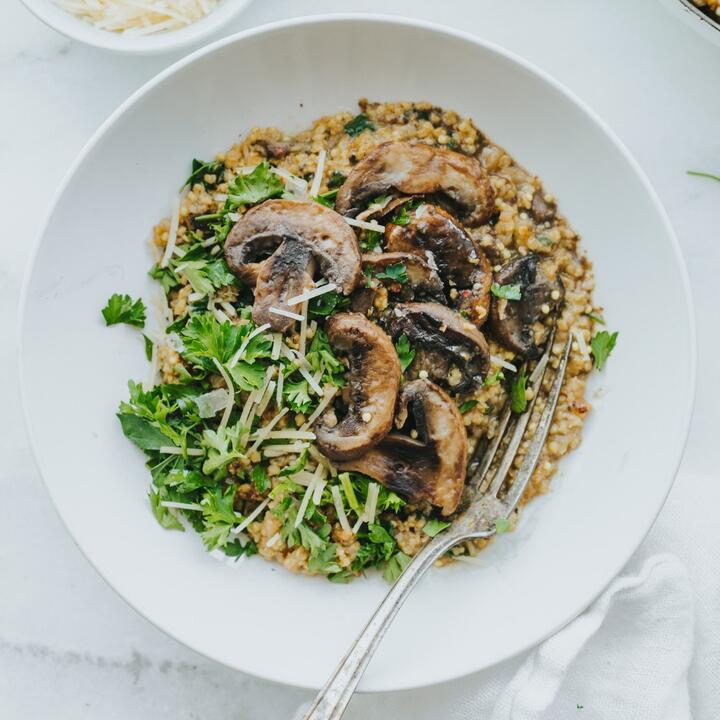 Israeli Couscous Mushroom Risotto
This Israeli Couscous Risotto is rich and creamy, yet still packed with goodness with the softly wilted spinach and chicken bone broth. It's also super easy to make!
Ingredients
2tbsp butter
250g baby spinach
½ onion, finely chopped
250g organic mushrooms, sliced
1tsp salt
Pinch of black pepper
700ml chicken bone broth
200g Israeli couscous
1 cup grated Parmesan cheese
Bunch of fresh coriander
Method
Melt the butter in a cast-iron pot over a medium heat, then add the onions and mushrooms and cook until softened.
Stir in the couscous and cook for about 2 minutes. Add the salt, pepper, and chicken bone broth, then reduce the heat.
Cover the pot with a lid and simmer for about 15 minutes until most of the bone broth has been absorbed.
Stir in the spinach until wilted, then the Parmesan cheese.
Serve with fresh coriander and a sprinkle of extra Parmesan cheese.