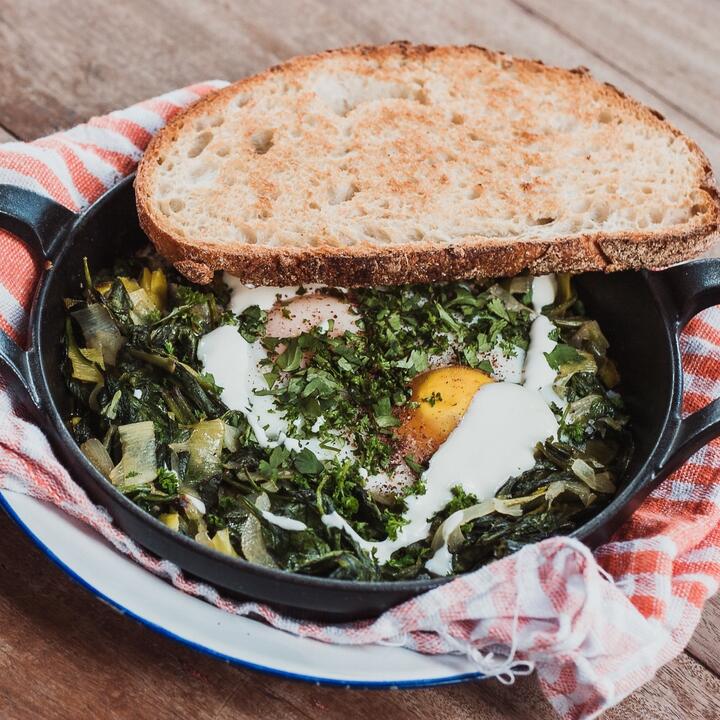 Green Shakshuka
This delicious Green Shakshuka is so easy to make and is a great way to eat your greens! The squeeze of lemon adds a lovely zing, and we love to serve it with fresh sourdough to soak up all of that golden runny yolk!
Ingredients
1tsp good quality olive oil
2 garlic cloves, minced
1 leek, chopped
4 organic eggs
1/2 white onion, sliced
120ml Osius Chicken Bone Broth (or any bone broth)
50g spinach
50g kale
Bunch of coriander, chopped
1tsp paprika
1tsp chilli powder
Plain kefir for serving
Pinch of salt and pepper
Squeeze of lemon
Method
In a large pan, add olive oil over medium-low heat. Fry the onion and garlic until the onion is softened, then add the paprika, chilli powder, salt and pepper.
Add leeks, kale, half of the coriander, and broth, and let it simmer until leeks are softened.
Add spinach and simmer until wilted, and a squeeze of lemon.
Make wells in the mixture for the eggs, then crack the eggs and let it cook until the egg whites are no longer translucent.
Season with salt and pepper and serve with plain kefir, an extra squeeze of lemon and chopped coriander.