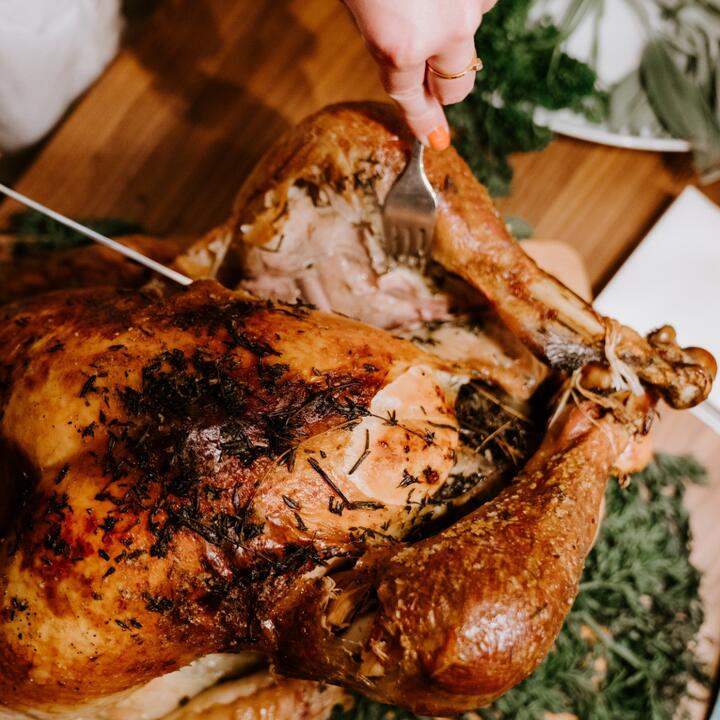 Golden Champagne Turkey
Wow your guests this Christmas with this juicy turkey baked in a rich chicken and champagne broth, perfectly tender on the inside and crispy on the outside. Absolute deliciousness!
Ingredients
Whole turkey
2tbsp dried parsley
2tbsp dried rosemary
2tbsp dried sage
2tbsp dried thyme
1tbsp rock salt
1tbsp black pepper
450ml chicken bone broth
750ml champagne
Method
Preheat the oven to 200C and line a roasting tin with tin foil.
Mix all of the herbs together in a bowl with the salt and pepper, then rub over the turkey.
Place the turkey into the toasting tin, and pour over champagne and bone broth.
Cover the turkey with tin foil, trying not to touch the skin, then bake for about 2 and a half hours.
Remove the tin foil from the turkey then bake for an extra half an hour until the skin is golden and crispy.
Remove from the oven and cover until it's warmed town, then serve with all the trimmings!