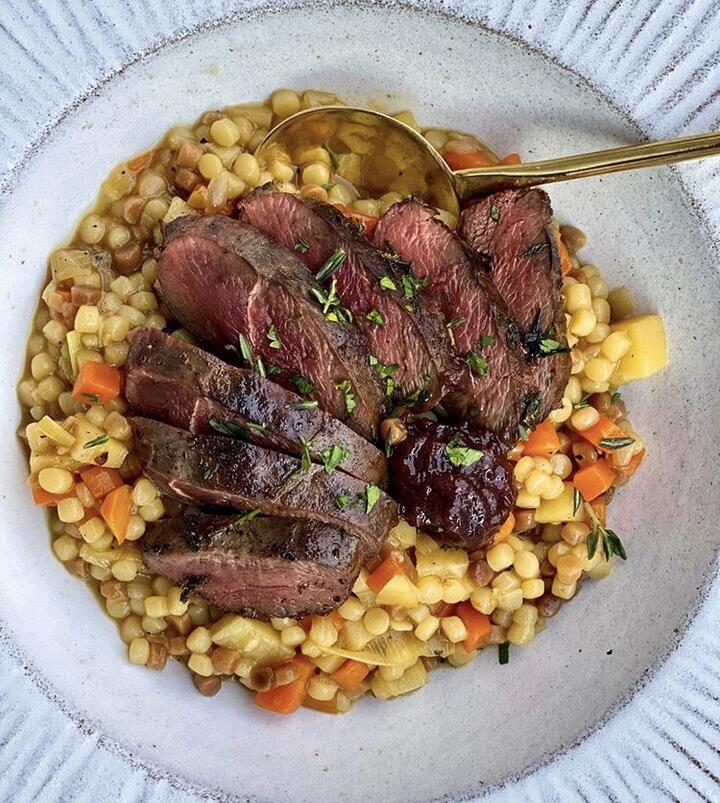 Game and Fregola
This delicious creation is Game and Fregola by Sophie Rushton-Smith from @thecornerplot using our Wild Game Broth, and if it's not enough to submerge you into a mouth-watering frenzy then we're not sure what is! Check out more of Sophie's amazing recipes by visiting her Instagram!
Ingredients
1 banana shallot, peeled and finely chopped⁠
1 clove of garlic, crushed⁠
1 leek, cleaned and finely sliced⁠
2 parsnips, peeled and diced⁠
2 carrots, peeled and diced⁠
¾ cup of fregola pasta⁠
1 pack of @osiusbonebroth Wild Game Broth with Juniper Berries⁠
Pheasant fillets⁠
4 sprigs of thyme⁠
Vegetable oil⁠
Knob of butter⁠
Cranberry sauce
Method
Heat a splash of olive oil in a medium saucepan, add the shallot and cook on a medium heat for about 5 minutes, until softened. Add the garlic and cook for 2 more minutes.⁠
Add the rest of the vegetables and cook for 5 minutes until starting to soften. Pour in the bone broth and fregola, bring to the boil, season, and simmer until the pasta is cooked and most of the broth has been absorbed. Check the seasoning.⁠
Season the pheasant fillets. Heat a heavy frying pan, add a splash of vegetable oil and when it starts to smoke add the fillets. Fry for 1-2 mins on each side, until caramelised, then lower the heat and add the butter and thyme.
Baste the fillets with the melted butter until cooked medium-rare (about 2 mins). The fillets should feel firm on the outside and springy in the centre. Remove from the pan, leave to rest for 5 mins then slice.⁠
Spoon the fregola into a deep bowl, top with the pheasant and a few thyme leaves. Delicious served with Spiced plum and cranberry sauce.⁠