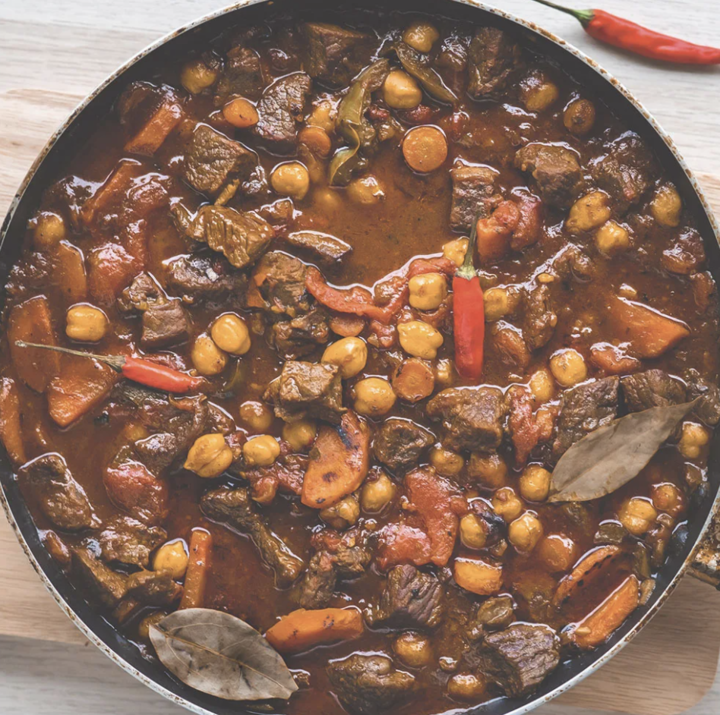 Game Stew
A delicious recipe, perfect for warming up on a winter evening!
Ingredients
400ml Osius Wild Game bone broth
25g butter
100g smoked streaky bacon rashers, rolled-up
8 small onions or shallots, trimmed and peeled
2 sprigs fresh thyme
1 bay leaf
6 juniper berries, roughly crushed
1kg boned game, cut into 4cm chunks – ideally a mix of dark and light game
2 tbsp flour
Salt and black pepper
200ml full-bodied red wine
75g redcurrant jelly
2 carrots, cut into chunks
150g small mushrooms
Method
Heat the oven to 150C/300F/gas 2.
Heat the butter in a casserole dish over a medium-high flame. Fry the bacon, turning regularly until golden. Lift out and set aside.
Put the onions, thyme, bay leaf, and juniper berries in the pot and fry until golden, then lift out and set aside in a separate dish.
Dust the meat with flour and a pinch of salt and pepper. Then fry in batches, try not to overcrowd the pan. Add more butter (or oil) if necessary, until well browned on all sides. Lift out and set aside with the onions.
Add the wine to the pan and scrape the bottom, then add the bone broth and stir in the redcurrant jelly to dissolve it. Bring to a simmer then return the onions, herbs, and game to the pot. Cover and put in the oven for about 45 minutes then stir in the carrots and mushrooms, and return to the oven (covered.) Cook for a further 15 minutes. Arrange the bacon on top, leave the lid ajar, and bake for another 30 minutes.
The meat should now be tender – season to taste and serve with root veg and mash.
Enjoy!