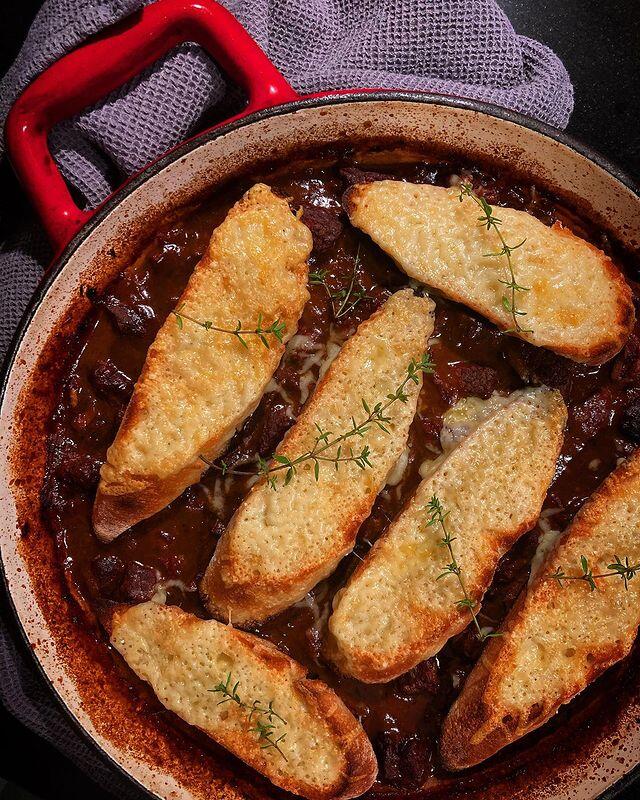 French beef onion stew
This slow cooker stew recipe by @hungryhealthyfamily is a twist on French onion soup!
Ingredients
1.2kg casserole/braising beef, diced
Bulb of garlic, halved
4 large onions, peeled and thinly sliced
A few sprigs of thyme and rosemary
1/2 tbsp sugar
20g butter
250ml red wine
500ml of Osius beef bone broth
Worcs sauce
1 small baguette sliced into 6 angular pieces
130g gruyere, grated
Plain flour
Seasoning
Olive oil
Method
Season the beef and toss in a tbsp of plain flour.
Heat a little oil in large frying pan on a high heat. Batch cook the beef till browned and add to the slow cooker.
Turn the heat to low. Add the butter to pan and a little olive oil. Add the garlic, onions, thyme, rosemary, sugar and seasoning and sauté on low for about 30 mins with regular stirring. The onions should go slightly golden and melty. Remove the garlic bulb and pop in the slow cooker.
Stir in 2 tbsp flour to the onions and cook off for a min, then with stirring add the wine and turn the heat up and bubble for a min until thickened.
Add in the broth and a splash of worcs sauce and bring to a simmer. Transfer the liquid to the slow cooker and cook on low for 6hrs.
Once cooked, transfer to a casserole pot. Squeeze the garlic out of the bulb and add to the beef and stir. Pop in a 180 fan oven for 10 mins or so to reduce the sauce slightly, or simmer it on the hob.
Make the croutons by toasting the bread on 1 side then top the other side with gruyere. Add the croutons to the top of stew and pop under a hot grill till the cheese is bubbling.
Serve with mash & green veg!