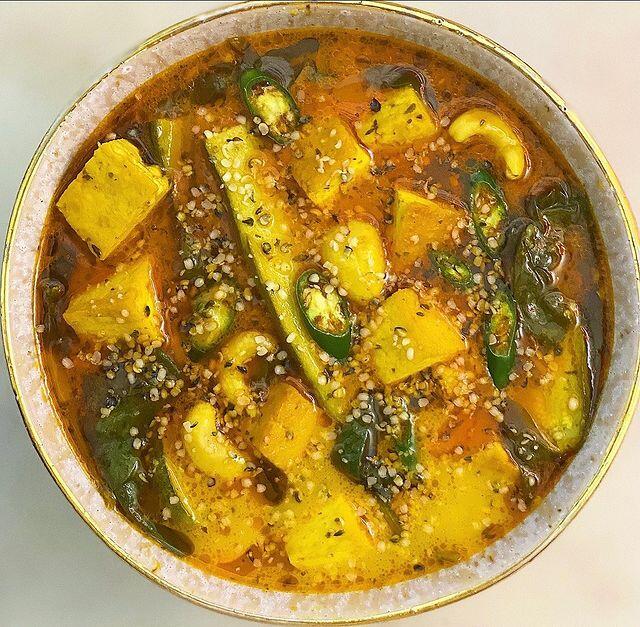 Crispy tofu and baby courgette coconut broth with cashew nuts
Keep it healthy AND warming this autumn with this broth by @cravingsandcauliflowers
Ingredients
4 garlic cloves, minced
1 50p ginger slice, grated
2 green spring onions, finely sliced
2 green chillis
1 tbsp cumin
1 tbsp fenugreek leaves
1 tbsp cayenne pepper
1/2 tbsp turmeric
1 tbsp coriander leaf
1 tbsp smoked paprika
juice of 1 lime
500ml Osius vegetable broth
400ml coconut milk
450g extra firm tofu, cubed
2 tbsp honey and turmeric acv
200g baby courgettes, halved
2 handfuls baby spinach
1 handful cashew nuts
2 tbsp coconut oil
Himalayan pink salt
Hemp seed hearts, to garnish
Method
1. Warm 1 tbsp coconut oil in a large pan
2. Add spring onions, stir and cook for 2-3 mins on a medium heat until softened
3. Add ginger and garlic, stir and cook for a further 2 mins
4. Add chilli, cumin, fenugreek leaves, cayenne pepper, turmeric, coriander leaf and smoked paprika, stir to combine and cook for 2-3 mins still on a medium heat
5. Add coconut milk, vegetable broth, lime and acv and stir.
6. Add courgette, stir and simmer for 10 mins
7. Meanwhile melt 1 tbsp coconut oil in a separate pan and cook your tofu on a medium heat, stirring throughout, until golden and crispy on the outside
8. Towards the end of cooking your tofu add cashew nuts to warm also
9. Once crisp add the tofu to the broth and then divide into bowls to enjoy immediately!