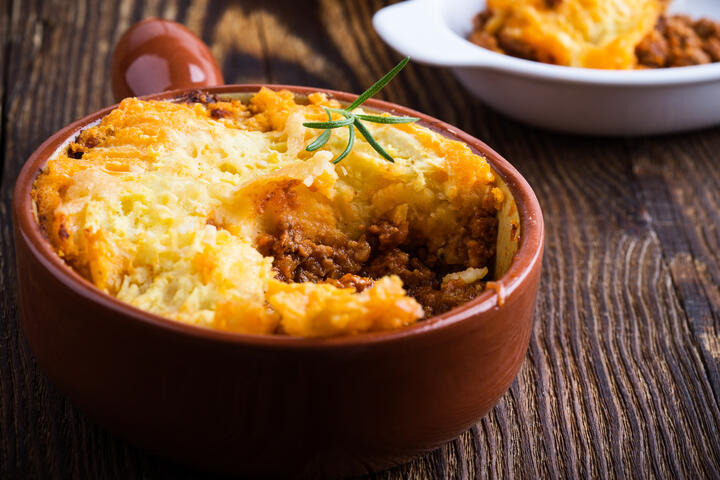 Creamy cottage pie
As cosy season draws closer, there's nothing more warming than a homemade cottage pie!
Ingredients
For the cottage pie filling
50ml oz olive oil
1 large onion, finely chopped
650g beef mince
2 tbsp tomato purée
1 tbsp plain flour
150ml red wine
4 sprigs fresh thyme
400ml beef bone broth
Worcestershire sauce, to taste
salt and pepper
For the mash
900g King Edward potatoes, peeled and chopped
115g butter
125ml milk
To serve
150g frozen peas
50g butter
Method
Heat half of the oil in a large pan. Add the onion and cook until softened. Tip it onto a plate.
Return the pan to the heat and add the remaining oil. When it's hot, fry the mince, in batches if needed, for 4–5 minutes, or until browned all over. Stir in the cooked onion and tomato purée and cook for 1 minute. Stir in the flour and cook for a further minute. Pour in the red wine, scraping up any caramelised bits with a wooden spoon, and add the thyme.
Add the bone broth and simmer for 45 minutes, or until the mince is tender and the mixture has thickened. Season to taste, and add a few dashes of Worcestershire sauce. Keep warm over low heat. Preheat the grill to high.
Meanwhile, for the mash, put the potatoes in a pan of salted water and bring to the boil. Reduce the heat and simmer for 12–15 minutes, or until they are tender. Drain and return the potatoes to the pan, then place over the heat for about 1 minute to drive off any excess moisture. Mash well, then add the butter and milk, beating to form a smooth mash. Season to taste.
Put the cottage pie filling in a baking dish and spoon the mash over the top. Grill for 8–10 minutes, or until golden-brown.
Meanwhile, boil the peas in boiling water in a small saucepan for 3–4 minutes, then drain and add the butter. Serve the cottage pie with the peas.