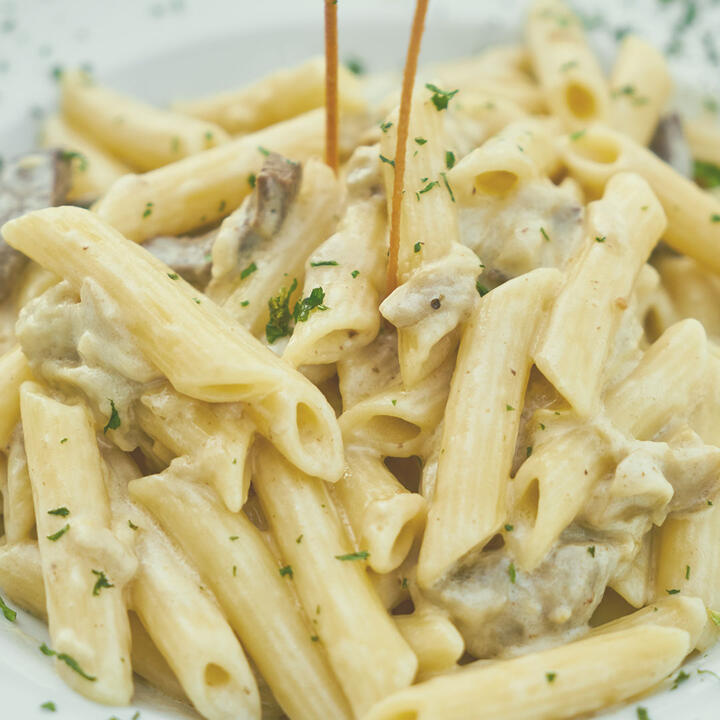 Creamy Mushroom Pasta
Serves: 6
Preparation time: 5 min
Cooking time: 20 min
Ingredients
Pasta to serve 6
60ml Osius vegetable bone broth
1 tablespoon of unsalted butter
2 garlic gloves
75g button mushrooms (with stems removed)
60ml heavy cream
2 tablespoons of dry white wine
22g grated parmesan cheese
Salt and pepper to season
Chopped fresh parsley for garnish
Method
1. Cook pasta in salted boiling water (according to the package directions) and drain.
2. Meanwhile, in a large pan melt butter over medium-high heat. Toss in chopped garlic and let cook until fragrant (about 30 seconds.
3. Place mushrooms cup side up in the pan. Cook for a further 3-5 minutes/until mushrooms begin to shrink. Occasionally move them around with a spatula.
4. Add white wine and cook until mushroom juice and wine evaporates (around 3 minutes.)
5. Add cream and Osius Vegetable Bone Broth to the pan and switch to medium heat. Add a pinch of salt and flip mushrooms occasionally, cook until sauce is slightly thickened.
6. Sprinkle parmesan cheese over mushrooms and gently stir until the cheese is melted. Taste and season as desired.
7. Finally, toss the pasta into the pan and mix well with sauce and mushrooms. Pour onto a plate and garnish with parsley and parmesan.