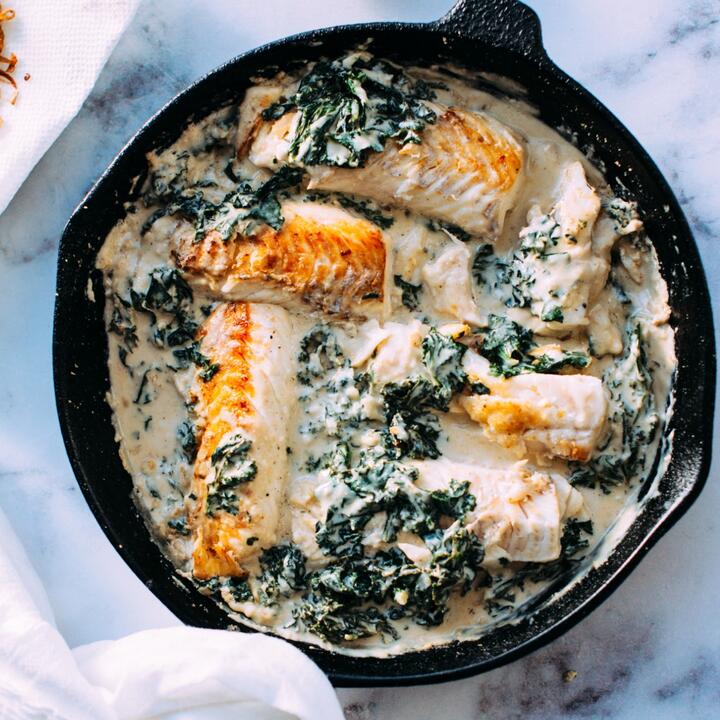 Creamy Garlic Salmon with Kale
Stepping into Spring calls for lovely, fresh recipes like this Creamy Garlic Salmon with Kale, perfectly finished with a squeeze of zesty lemon!
Ingredients
4 skinless salmon fillets
3tsp olive oil
4 garlic cloves, chopped
200g kale
1 lemon
150ml Osius chicken bone broth
150g mascarpone
50ml milk
Salt and pepper
Method
Add half of the olive oil to the pan over a medium heat, and sear until golden brown on the bottom, then flip until cooked through for about 2-3 minutes.
Transfer the salmon to a plate and heat the remaining oil in the pan after wiping it clean.
Add garlic to the pan and cook for about 30 seconds, then pour in the chicken bone broth. Simmer for about 3 minutes until reduced.
Then add the kale, lemon juice and season. Stir in the mascarpone and milk and cook until the kale has wilted.
Add the salmon back into the pan and cover with sauce to combine the flavours. Serve with lemon juice and season.