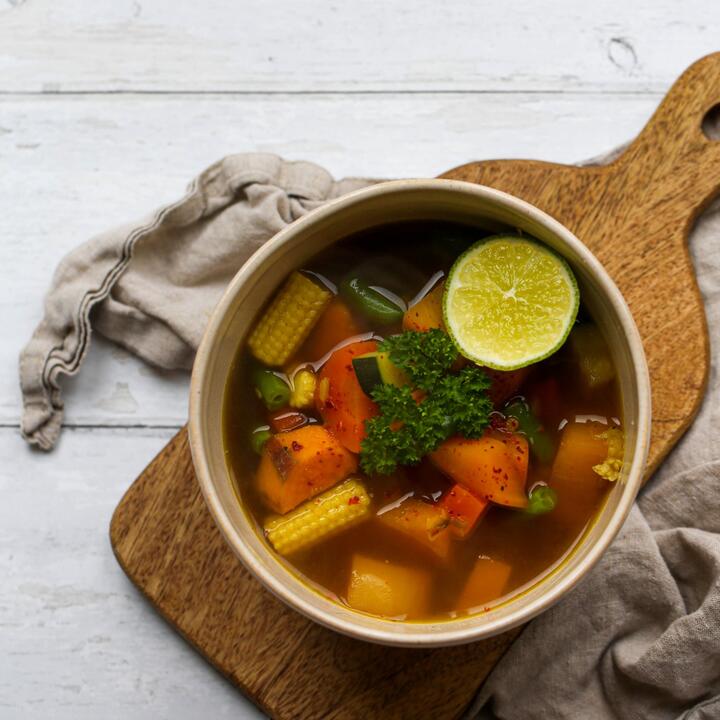 Chunky Vegetable Soup
The broth does the talking in this soothing bowl of soup by Emma from @elfoodielife, a lovely blog full of delicious, home-cooked meals. Hearty, nutritious, and immune-boosting!
Check out some more of Emma's recipes on her blog and Instagram!
Ingredients
500ml Osius Vegetable Broth
1 Sweet Potato
1 Carrot
5 Mini Sweetcorn
1/4 Turnip
10 Green Beans
1/2 Courgette
2 Garlic Cloves (Sliced)
Small Chunk of Fresh Ginger (Finely Sliced)
1tbs Soy Sauce
1tsp Chilli Flakes
Method
In a large cast-iron pan, add a splash of olive oil and set over medium heat.
Peel and cut the sweet potato, carrot, and turnip into large edible chunks.
Add to the pan and sauté for a couple of minutes. Stir and continue to sauté.
Slice the garlic and ginger and add to the pan and stir. Cook for 60 seconds.
Next, add the stock. (You will need to defrost beforehand or if you forget, like me, then simply lay it under warm water until melted)
Once the stock has been added, cook for 10 minutes.
Slice and cut the courgette into chunks, then cut the green beans and sweetcorn up into small bites.
Once the vegetables are softening add the remaining vegetables to cook. This will take around 5 minutes.
Before serving, add the soy sauce and top with chilli flakes.
ENJOY and stay warm!