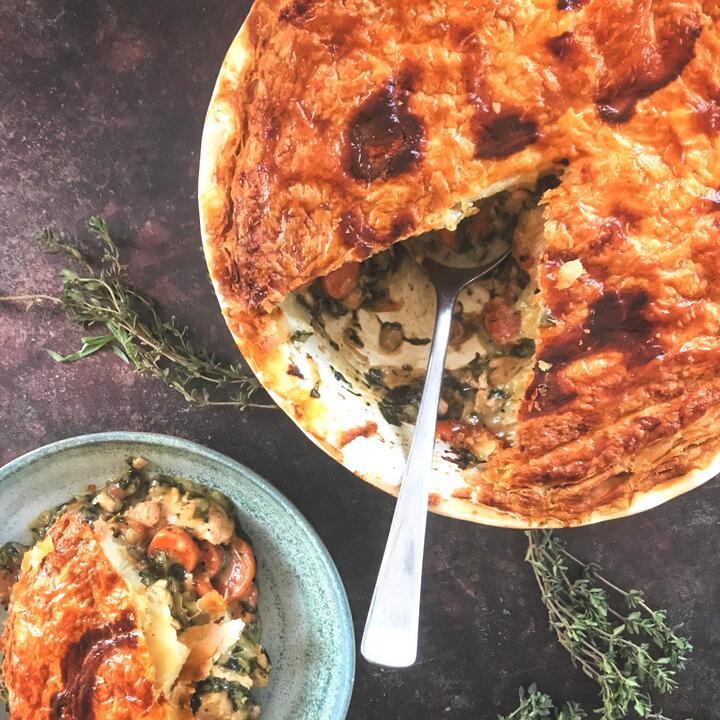 Chicken and Spinach Pie
In light of British Pie Week, we're tucking into this delightful Chicken and Spinach Pie by home cook, Leigh Bourne. The creamy, brothy filling and flaky golden pastry make for a perfect pie, the ultimate comfort food.
Head over to Leigh's Instagram @the_victorian_cottage for some more of his delicious, hearty, home-cooked meals!
Ingredients
500g chicken breast
500ml Osius Organic Chicken Broth
Large colander of spinach leaves
1 tbsp olive oil
200g smoked bacon lardons
2 small onions, sliced
3 garlic cloves, sliced
30g butter
50g plain flour
2 sprigs of fresh thyme, leaves stripped
2 sprigs of fresh tarragon, chopped
Salt & ground glack pepper
4-5 carrots, sliced & cooked until tender
1 Sheet of all butter puff Pastry
1 egg
Splash of Milk
Method
Preheat the oven to 200 degrees celsius.
Pour the Osius chicken bone broth into a saucepan and poach the chicken breasts for 25-30 minutes, once cooked remove the chicken and chop into chunks, keep the broth to one side, you will need this later.
Bring some water to the boil with a pinch of salt in a large pan, blanch the spinach for a couple of minutes, drain and add straight into cold water to stop the cooking. Drain again and chop, put to one side.
Place a saute pan or large frying pan on a medium heat, add the oil, when hot throw in the bacon lardons, cook until starting to colour. Add the onions and garlic and continue to cook for 5-6 minutes. Add in the butter, once melted sprinkle over the flour and cook for a further 2 minutes, stirring all the time.
Pour in the reserved Osius Bone Broth, continue to stir and bring to a simmer, add the cream, herbs and chicken, cook on a low heat for 5 minutes.
Finally add the chopped spinach, carrots and a good pinch of salt and pepper, stir through, take off the heat and leave to cool.
Once cool, take the filling and fill a 23cm x 5cm deep pie dish. Make up an egg wash with the egg and splash of milk, brush the edges of the pie dish.
Lay over your sheet of puff pastry, gently press down the edges to seal, trim off the excess pastry and pierce a hole in the lid, brush the top with the egg wash.
Place in the oven for 45minutes until golden brown.