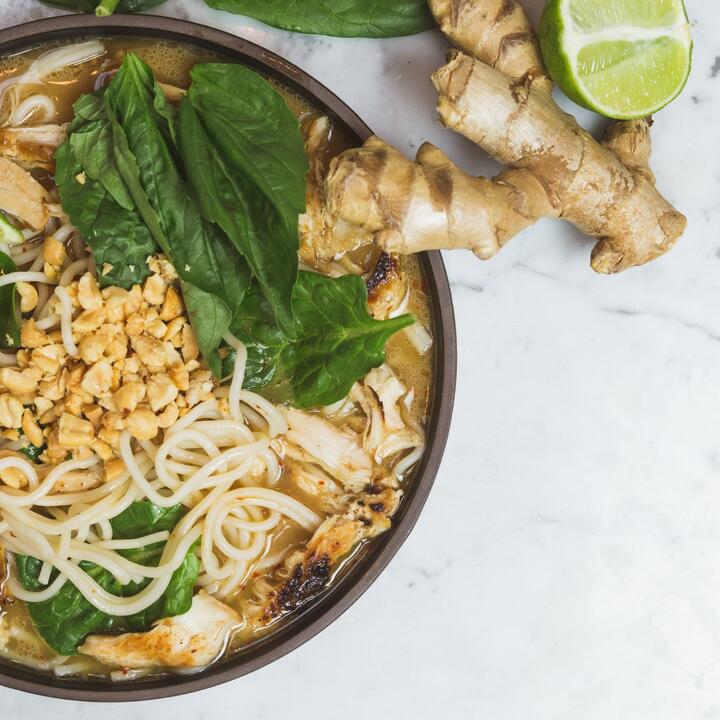 Chicken and Peanut Ramen
We're BIG fans of noodle soup, and this gut-soothing broth has a delicious creaminess from the peanut butter, matched perfectly with fresh ginger and zingy lime. Heaven in a bowl!
Ingredients
1tsp coconut oil
2 organic chicken breasts
2 garlic cloves, chopped
1tsp ginger, grated
2tbsp organic peanut butter
500ml Osius Chicken Bone Broth
200ml coconut milk
1tbsp soy sauce
Squeeze of lime
1tsp chilli flakes
200g noodles
Chopped peanuts for serving
Handful of spinach for serving
Method
Add coconut oil to a pan over medium heat with the chicken breasts and cook for around 2 minutes, then add the garlic and ginger.
Pour the chicken bone broth in with the chicken, garlic, and ginger. Bring to the boil, then simmer for about 20 minutes until the chicken is tender and cooked through.
Remove the chicken from the broth and cut into pieces, then return to the broth.
Add peanut butter, coconut milk, chilli flakes, and soy sauce to the broth and simmer for 5 minutes.
Add the noodles to the broth and cook until soft, then serve with a squeeze of lime, chopped peanuts, and spinach.