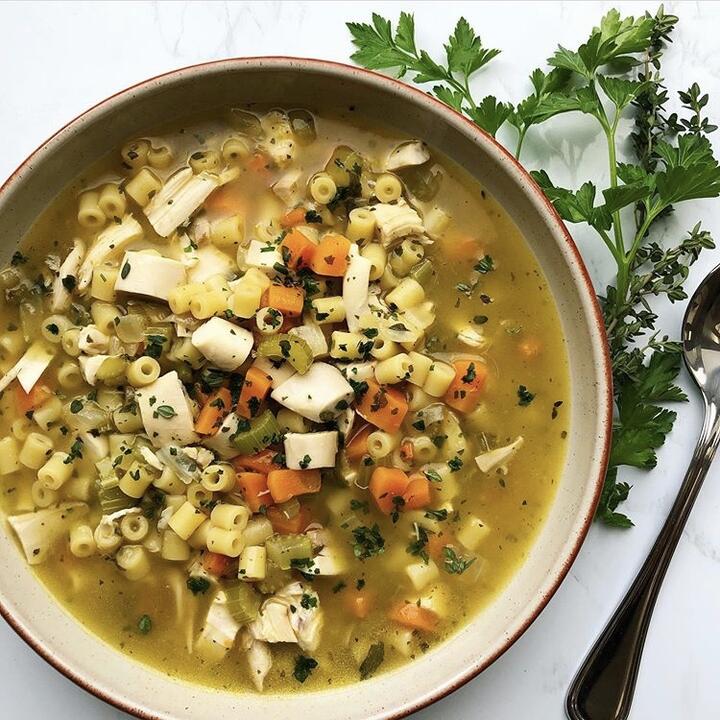 Chicken and Pasta Soup
We're always looking to reduce food waste as much as possible, and what better way to use up your Sunday roast leftovers than with this nourishing Chicken and Pasta Soup! This recipe was created by Christianna who creates delicious healthy food for all the family, which you can find on her Instagram and website 'Eat Happy Feel Good'.
Ingredients
1 onion
2 carrots
3 stalks celery
2tbsp olive oil
2 cups of cooked chicken
1tsp fresh thyme
1L Osius Chicken Bone Broth
250g short pasta
1tbsp parsley
Salt and pepper
Method
Finely chop the onion, carrots, and celery.
Pour the olive oil into a large pan over medium heat and add the vegetable. Cook for about 7 minutes.
Add the thyme and cook for a couple more minutes.
Pour in the bone broth and bring to a gentle boil.
Add the pasta and cook per packet instructions - just before the pasta is cooked, add the chicken to the soup to allow it to heat up.
Bring off the heat, add parsley and season.