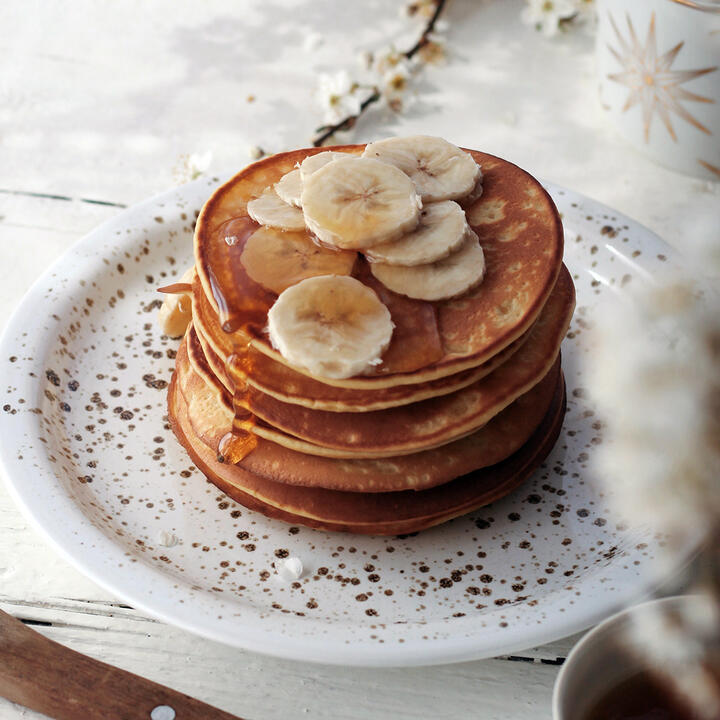 Bone broth gluten-free banana pancakes
Serves: Makes 8-10 pancakes
Ingredients
For the pancakes:
80g gluten-free oats
1 overripe banana
1 tbsp coconut oil
1 tsp cinnamon
2 eggs
80ml unsweetened nut milk
60ml cup Osius Bone Broth (chicken, beef, or vegetable works)
1/2 tsp baking soda
For the syrup drizzle:
1 tbsp melted nut butter (natural is best)
60ml maple syrup
For the toppings:
Gluten-free yogurt
Banana slices
Mixed seeds/chia seeds
Method
Place all pancake ingredients blender and blend at a high speed until smooth.
Heat a frying pan on medium heat and coat the pan with a suitable non-stick cooking spray. Use around 60ml of pancake batter per pancake. Cook for 3-5 minutes on one side, then flip. Repeat until the batter is gone.
While pancakes are cooking, make nut butter syrup drizzle.Melt nut butter in a microwavable bowl for 15 seconds. Mix in the syrup and up to 2 tsp water if needed.
Top pancakes with gluten-free yogurt, banana slices, mixed seeds, and nut butter syrup drizzle.
Enjoy!