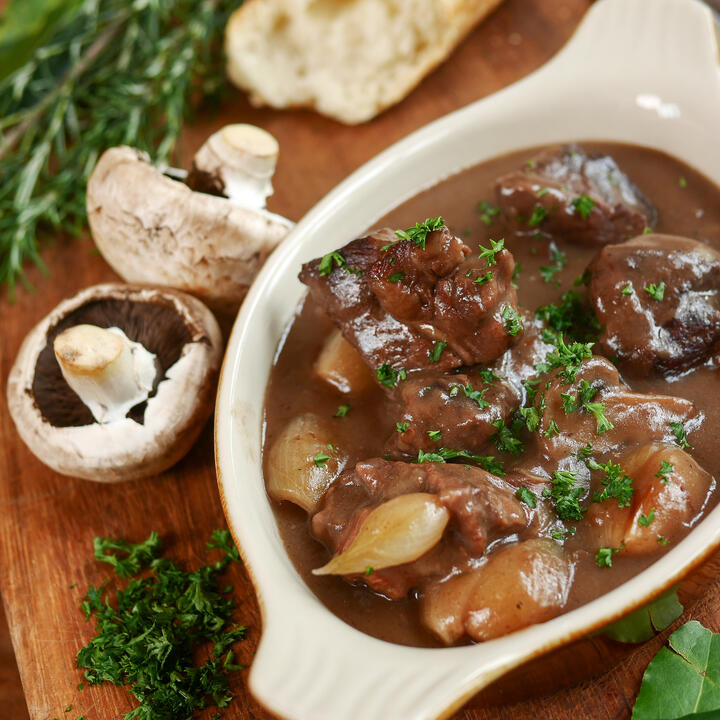 Beef Bourguignon
Serves: 4
Preparation time: Less than 30 mins
Cooking time: Over 2 hours
Ingredients
800g Diced beef
150g Unsmoked back bacon
1 Bay leaf
2 stalks of Thyme
2 Cloves garlic
100g Mushrooms - sliced
1 Small onion - chopped
120g Shallots
40g Plain flour
1 Teaspoon of salt
½ Teaspoon of pepper
500ml Osius Beef Bone Broth
200ml Red Wine
1.5 Tablespoon sunflower oil
10g Butter
Method
Cut the braising steak into chunky pieces, each around 4-5cm/1½-2in. Trim off any really hard fat or sinew. Season the beef really well with salt and pepper.
Heat the oil in a large frying pan. Fry the beef in 2 batches over a medium-high heat until nicely browned on all sides, turning every now and then and adding more oil if necessary. As soon as the beef is browned, transfer to a large flameproof casserole. Preheat the oven to 170C/150C (fan)/Gas 3.
Pour a little more oil into the pan in which the beef was browned and fry the bacon for 2-3 minutes, or until the fat crisps and browns. Scatter the bacon over the meat. Add a touch more oil to the frying pan and fry the chopped onion over a low heat for 5-6 minutes, stirring often until softened. Stir the garlic into the pan and cook for one minute more.
Add the onion, and garlic to the pan with the meat and pour over the wine and beef bone broth. Mix in the herbs. Stir well, cover with a lid and transfer to the oven. Cook for 1½ -1¾ hours, or until the beef is almost completely tender.
While the beef is cooking, peel the shallots. Put the shallots in a heatproof bowl and cover with just-boiled water. Leave to stand for five minutes and then drain. When the shallots are cool enough to handle, trim off the root close to the end so they don't fall apart and peel off the skin.
A few minutes before the beef is ready, melt half of the butter with the flour to make a roux in a large non-stick frying pan with a touch of oil and fry the shallots over a medium heat for about five minutes, or until golden-brown on all sides. Tip into a bowl. Add the remaining butter and mushrooms to the pan and cook for 2-3 minutes over a fairly high heat until golden-brown, turning often.
Remove the casserole from the oven and stir in the mixture. Return to the oven and cook for 45 minutes more, or until the beef is meltingly tender and the sauce is thick.
To serve, remove the thyme stalks. Sprinkle the casserole with freshly chopped parsley and serve.