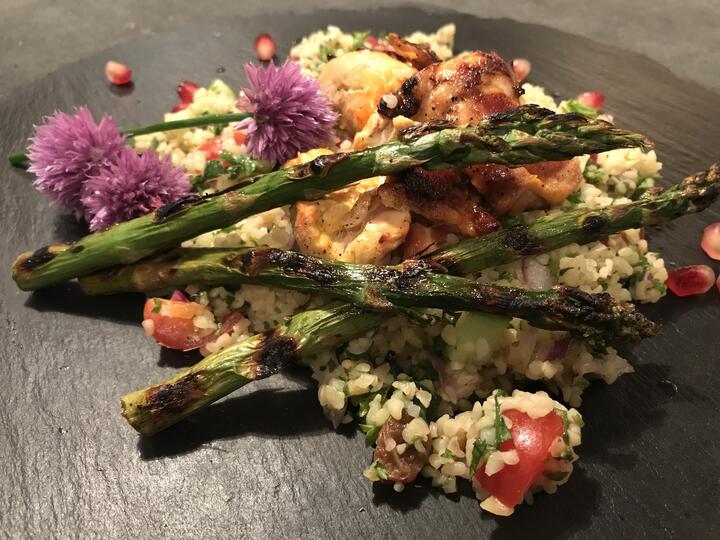 BBQ Chicken with Saffron and Zingy Tabbouleh
Ingredients
50g sultanas
200g bulghur wheat
200mls Osius Chicken Broth
200 mls water
1 small red onion
125g ripe baby tomatoes
½ cucumber
bunch of chives
1 small bunch of parsley
1 small bunch of mint
Juice of 2/3 lemons
2 tbsp olive oil
6 skinned, boned free range chicken thighs
6 asparagus stalks
Seeds of half a pomegranate
Pinch of saffron
Sea salt
Method
Put saffron and sea salt in a pestle and mortar and grind until fine
Chop each chicken thigh into 3 pieces
Pour juice from 1 of the lemons and 1 tbsp of olive oil over chicken and sprinkle with the saffron mixture. Mix well, cover, leave for a couple of hours
Put broth, water, olive oil and salt in a pan. Bring to a simmer and add bulghur wheat. Simmer for 15 minutes until tender.
Add sultanas to bulghur wheat
Remove from heat and allow it to cool soaking up all the water
Wash and finely chop the herbs, add to bulghur wheat
Wash and chop tomatoes, cucumber and onion, add to bulghur wheat
Add lemon juice
Adjust seasoning, don't be afraid here, do your own thing! Add more salt or more lemon juice until you think it is right
Put chicken onto skewers, BBQ or grill chicken thighs, until cooked. Male sure the centre is not pink, keep warm in oven
Rub a little olive oil over asparagus then BBQ until cooked through and beautifully charred
Serve tabbouleh and arrange chicken and asparagus
Sprinkle with pomegranate
Can be served on its own or with warm pitta bread for very hungry people!